Marion F. Horton,
Teacher at Hornbine School
1923 - 1926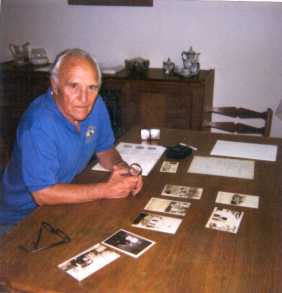 Gordon Francis, son of Marion F. Horton, with his mother's pictures.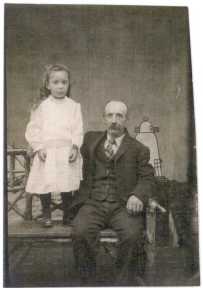 Marion as a little girl with her grandfather.
Her middle name, Frances, came from her grandfather's name. Marion was born in 1905 and brought up in Swansea. She attended Durfee High School in Fall River. Her family moved to Rehoboth (81 Martin St. - now 103 Martin St.) around 1915. Her sisters attended Case High School. She went on to Hyannis Normal School to become a school teacher.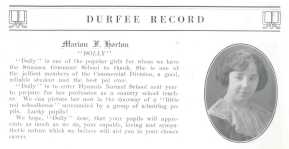 Marion's entry in her High School Year Book, The Durfee Record.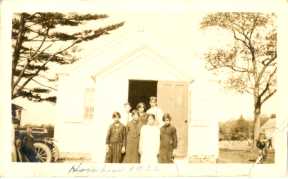 Marion with students from Hornbine School June 11, 1926.
Gordon's mother said the students were all respectful. She married Douglas Francis (born 1902) on June 17, 1926. (six days after this picture was taken). She had met him at a dance at Bristol Agricultural High School around 1922.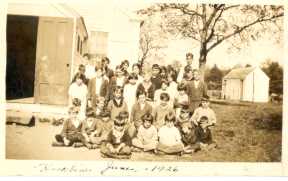 Marion Horton with Grades 6, 7 & 8 outside Hornbine School on June 11, 1926. Gordon Francis says his mother is the person in the middle back.

To her left (our right) is Raymond Reed (the tall boy). Raymond Reed was the biggest boy in the school and sat at the farthest seat in the back of the room to the right. He, like other boys, helped bring in the wood. Raymond Reed, who was well behaved, married Ruth, Marion Horton's younger sister.
These pictures seem to have been taken on the same day in June,1926 or possibly Memorial Day or Flag Day
Back