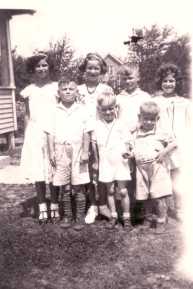 Evelyn on the far left with her siblings.



Three generations of Roses, including me - Evelyn Rose Bois, walked to school from Purchase Street. My father and his father before him, walked two miles each way. We did not have a school bus in the Hornbine area of town during the twenties and thirties so my siblings and I walked one mile to school.
We were expected to attend school no matter what! We never had what is now called "snow days". Our teacher, Mrs. Hopkins, drove 10 miles and was always there to teach when we arrived. We walked to school in the snow or rain and dried our shoes or boots (and often socks) near the wood burning stove if it was necessary.
If we came to school late, particularly in good weather, we had to stay after 3:30 PM to make up for the lost time. Then, our folks would punish us when we arrived home. We were needed at home to perform many chores like picking strawberries.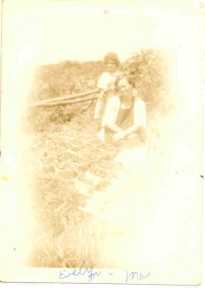 Evelyn's sister, Dot, with her mother after picking many baskets of strawberries.

We were expected to go to school dressed as best we could every day. The boys always had to wear a shirt and bow tie. They dressed in knickers and eventually they wore long pants. The girls always wore a dress or skirt and blouse.
We didn't have vacations every eight weeks as the children do today. We only had a few holidays off from school.
Each year, our parents would come to school and watch us put on a Christmas play. We would dress up in our "Sunday Best" for the day. We all had to remember a poem and our part in a play.
I remember that we all got a candy cane. We might receive a pencil with our name on it from the teacher. This would help us have a pencil at all times.
Many children, like my father, left school when they were fourteen. We were farmers and the family needed the children to work. Some students in our area continued on to local high schools.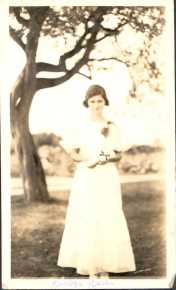 Evelyn, in her, "homemade", seventh grade graduation dress. Eighth grade students from Hornbine attended the Bark Street School in Swansea at that time.

My father and grandfather attended the Hornbine School when it was a smaller building. The desks were arranged facing the front as they are today. My siblings and I attended The Hornbine School after it was expanded. At that time, the desks had been reversed, facing the back of the building, so we wouldn't be easily distracted by traffic passing by the front door!
I ' ve always enjoyed visiting The Hornbine School. My husband, Joe, and I attend the open house, each second and fourth Sunday between June and September, as often as we can. We enjoy meeting friends, old classmates and relatives of people I know.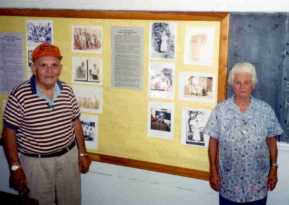 Joe and Evelyn Bois standing by Evelyn's display at The Hornbine School.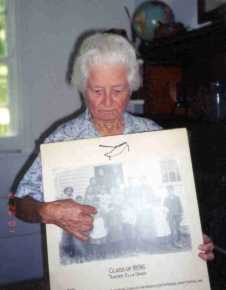 Evelyn Rose Boise pointing to her aunt who attended Hornbine School in 1896.